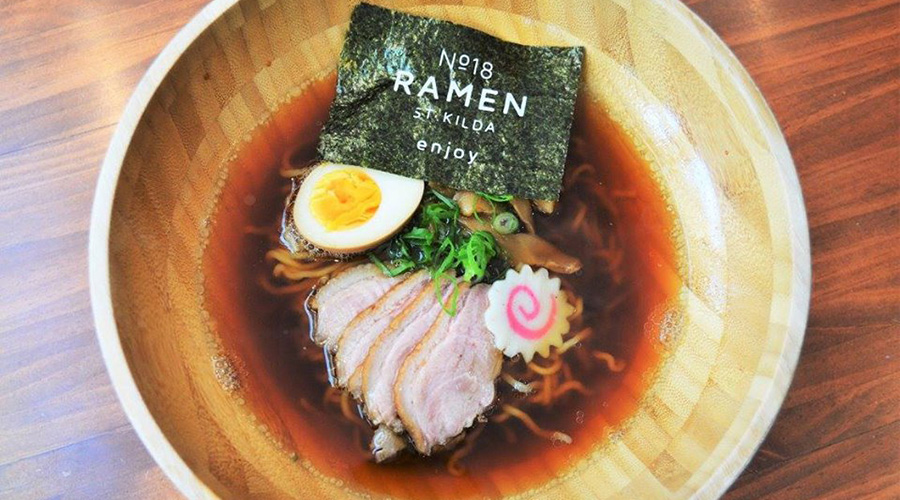 No.18 RAMEN
New to Richmond's Bridge Road, No. 18 is a ramen restaurant that defies expectations. From the stylish fit out to the wait staff wearing soccer shirts with '18' on their backs, you initially wonder what to make of it.
The six unique types of ramen on offer further the impression this is no ordinary restaurant. There's the signature 'Ohako' – a thick, 100 per cent chicken broth – miso-rich 'Miso' n' impossible' or easygoing, traditional 'Ol' Skool', while for the more adventurous, the tomato flavoured 'o sole mio', suitably spicy-sounding 'Hell's Red' or spicy and garlicky 'Devil's Amen' should do the trick. There's even a little history of each dish's name next to its respective menu listing.
For those who don't like ramen, other izakaya-style dishes like kara-age chicken, yaki udon and nikujaga should go down well with a few drinks, ensuring this is a great one-stop shop for a night out. If you're in Richmond, we'd definitely recommend stopping by.
Recommended Dish : Shoyu Ramen -$13
Address

151-153 Fitzroy Street, St Kilda

394 Bridge Rd, Richmond

Tel
Business hours

7days, 11:30~15:30, 17:30~21:30

Breakfast, Lunch, Dinner

LUNCH

DINNER

Others
Website