眺めの良い隠れ家で、お酒片手にメキシカン - Mesa Verde (2019年04月号)
秋が深まるこの季節は、隠れ家的な店で飲み食いしたいと思う。とは言え、見知らぬ人の肩に触れるような狭い店は避けたい。できれば、便利なロケーションにあって、天井が高くゆったりとしたスペースで、時間と共に移り行く街の風景が眺められる大きな窓があると良い…と、思いつくままに希望を並べてみたのだが、なんと私のわがままを叶える店を発見。それがメルボルンのど真ん中に位置するCurtin Houseの屋上にあるメキシカン・バー&レストランMesa Verde。今回は気さくなスタッフ達のお勧めメニューをいただいた。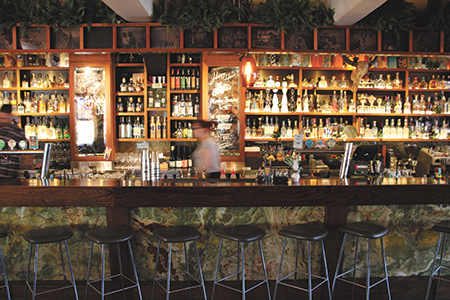 最初に運ばれて来たのは、Market fish ceviche, habenero negra, finger lime, heirloom tomato。 Cevicheは南米で食べられている魚介類のマリネで、見た目はイタリアンのカルパッチョに似ているが、口に運んだら、予想とは違うピリッとした刺激ににビックリ。それもそのはず、世界一辛いと言われるハバネロのソースが使われていたのだ。最初はビックリしたが、キングフィッシュの持つ甘みと、マリネすることによって生まれた酸味、ハバネロの辛味が相まってクセになる。店の一番人気カクテルMargarita De La Casaと是非合わせてみて。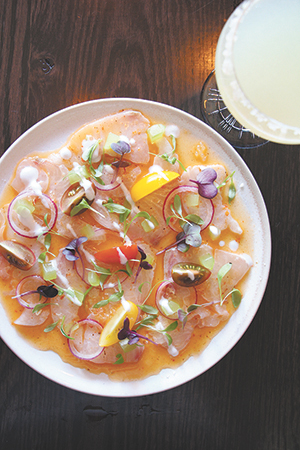 Market fish ceviche, habenero negra, finger lime, heirloom tomato $19 
続いては、友達とシェアするのにピッタリなCrispy cauliflower tlayuda, fermented chili, black beans, queso Oaxaca。 Tlayudaは、メキシコ料理を代表するオアハカ地方の料理で、オアハカ版ピザと言えば分かりやすいかも。パリパリに焼いたトルティーヤの上に黒豆のペースト、香ばしく火の通ったカリフラワーや生野菜、Queso Oaxacaと呼ばれる毛糸玉のような形の塩味の効いたチーズなどがのっていて、なかなかのボリューム。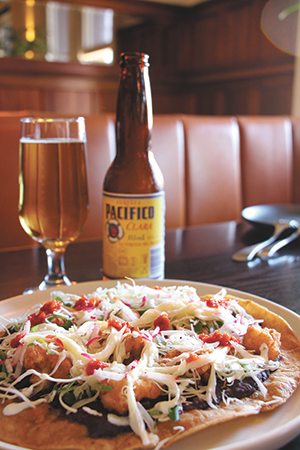 Crispy cauliflower tlayuda, fermented chili, black beans, queso Oaxaca $22
この料理のサイドにはCharred corn esquites, smoked morita mayo, cotija cheese, crispy totoposがお勧め。コーンとマヨネーズに、ライムの爽やかな風味とパルメザンチーズのような Cotija cheeseが良いアクセントになっている。メキシコビールと相性抜群なのでお試しを。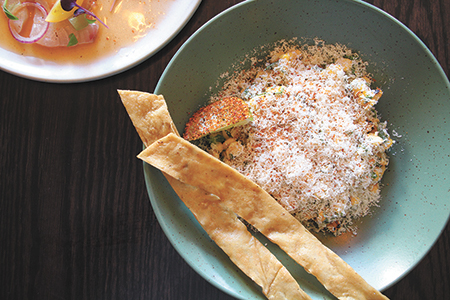 Charred corn esquites, smoked morita mayo, cotija cheese, crispy totopos $12
ちょっぴり辛い料理の後はHorchata ice cream, corn meringue, dulce de leche, soft chocolateで、クールダウン。メキシコの子供達に大人気の米から作られたドリンクHorchataのアイスクリーム、どこか優しい味わいのコーンのメレンゲ、 キャラメルのようなミルクジャムdulce de leche、濃厚なソフトチョコと盛りだくさんの贅沢デザート。それぞれ個性的で、味や食感の違いが楽しく、料理の最後を飾るのにピッタリ。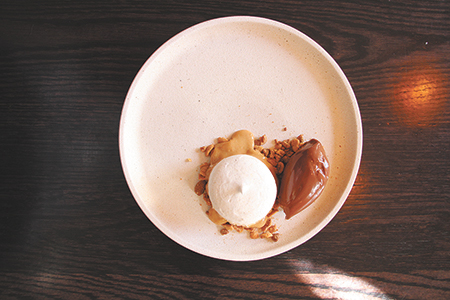 Horchata ice cream, corn meringue, dulce de leche, soft chocolate $14
仕事や買い物帰りにフラリと立ち寄れるロケーション。落ち着いた店内で街の喧騒を見下ろしながら、リラックスした時間が過ごせる店。友人とのキャッチアップに使えば、喜ばれそう。ごちそうさまでした。
A hidden Mexican gem with great views
Autumn is the kind of season where you just want to find a great little hidey-hole and enjoy some top-notch food and drink. Having said that, we're not big fans of being squeezed into a tiny space where the patrons are all stepping on each other's toes. In our perfect world, such a restaurant would be conveniently-located, have high ceilings and a spacious feel, and big windows where we could look out over the ever changing Melbourne landscape. Amazingly, we found just such a place recently in Mesa Verde. Located on the rooftop of Curtin House, this Mexican bar and restaurant is perfectly located in the middle of the city, so we went along to have a look.
First on the list of staff-recommended dishes was the Market fish ceviche with habanero negra, finger lime and heirloom tomato. Ceviche is a South American-style marinated dish, and this particular variation looked a bit like Carpaccio, but unlike that Italian staple, this dish had quite a kick thanks to its use of habanero negra. At first we were shocked at just how spicy it was, but as you settle down, you realise the sweet Kingfish and vinegary marinade combine with the spice to provide a very more-ish balance. We recommend eating it with Mesa Verde's most popular cocktail, the Margarita De La Casa.
Next we tried the Crispy cauliflower tlayuda, with fermented chili, black beans and Queso Oaxaca. Tlayuda is an Oaxaca region dish that's perhaps best compared to pizza. This version uses black bean paste on top of a crispy tortilla, fragrant roast cauliflower, raw vegetables and queso Oaxaca – a salty local cheese variety that looks like yarn balls – to create quite a filling dish. We'd recommend pairing it with the Charred corn esquites with smoked morita mayo, cotija cheese and crispy totopos. The refreshing lime and Parmesan-like flavours of the Cotija add a nice accent to the corn and mayonnaise, and both dishes go perfectly with Mexican beer.
After the spiciness of our savoury dishes, we thought we'd cool down with the Horchata ice cream with corn meringue, dulce de leche and soft chocolate. Horchata is a Mexican rice-based drink that's very popular with kids, and this dish uses it to flavour the ice cream. Paired with the soft sweetness of the meringue, caramel-like dulce de leche and rich chocolate, it's a very luxurious dessert. Each element has its own individuality, and the difference in tastes and textures is very fun – the perfect way to round out the meal.
With its convenient location, Mesa Verde is an ideal place to stop off after a day's work or shopping. You can relax while looking down at the clamouring city below, and there's no doubt it'd be a great catch-up spot, too. Gotchisousamadeshita.
Mesa Verde
Level 6 Curtin House 252 Swanston St, Melbourne
T: 03 9654 4417
Mon-Fri: 4pm-Late (Kitchen close 10pm)
Sat・Sun: 2pm-Late (Kitchen close 11pm)
W: mesaverde.net.au