木漏れ日の下でウフフな時間 - Arbory Bar & Eatery (2018年1月号)
本格的な夏到来のこの時期、いかがお過ごしだろうか? クリスマス明けのバーゲンセール、新年のパーティ-など、CBDを訪れる計画をしている人も多いのでは。そこで紹介したいのが、Arbory Bar & Eatery。ヤラ川を望む抜群のロケーションのこの店は、フリンダースストリート駅のプラットフォームからチラリと覗くことができるので、気になっている人もいるのでは。今回はシェフのNickさんがお勧めするメニューをいただいた。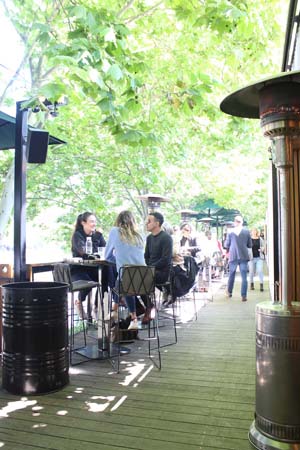 ランチのピークを過ぎた昼下がり。木漏れ日が差し込むテーブルで、キンキンに冷えたドリンク片手に川面に反射する光を眺める。なんて優雅な夏の午後…と仕事を忘れリラックスしているところへ運ばれてきたのは、Fried Soft Shell Crab, Vegetable Salad, Tahini Dressing & Furikake。サラダ系のメニューは、途中で飽きてしまうことが多いのだが、ここのは野菜それぞれの持ち味や食感を生かして、生のままや、軽く酢漬けになっているのが特徴。全体的にサッパリとしているが、きつね色に揚がったザクザクした食感のソフトシェルクラブが程好くコッテリとしていて、良いアクセントに。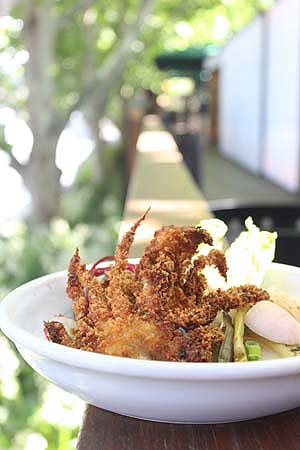 Fried Soft Shell Crab, Vegetable Salad, Tahini Dressing & Furikake $19
続いては、人気メニューのDouble Cheeseburger, Bacon, Pickles, Tomato Relish & Crinkle Cut Chips。ほんのり甘いバンズで、塩気のある具をたっぷりはさんだボリューム満点のバーガー。パテは真ん中がピンク色のミディアムに調理されていて本格的。フライドポテトも付いているし、ビールにもソフトドリンクにも合うし、このロケーションで食事するのにピッタリなひと皿だ。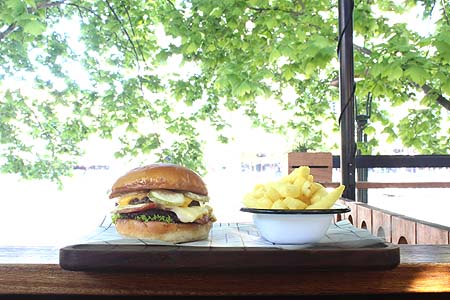 Double Cheeseburger, Bacon, Pickles, Tomato Relish & Crinkle Cut Chips $17
更に、彩り豊かでかわいらしい盛り付けのSeared Swordfish, Zucchini, Golden Raisins, Fried Potato & Green Goddess Dressing。存在感のある厚切りのメカジキは、表面がこんがりと焼かれ身はふっくらジューシー。良い具合に油が落ちていてクドくなく、ちょっぴりクリーミーな緑のソースや、軽く乾燥させた甘酸っぱいトマトに良く合う。ディルなどのハーブの爽やかな香りや、ゴールデンレーズンの甘味が、アクセントとして効果的に使われているのが印象的。軽めのワインと合わせたくなる一品。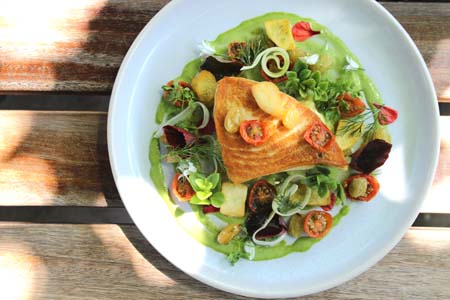 Seared Swordfish, Zucchini, Golden Raisins, Fried Potato & Green Goddess Dressing $28
食事を締めくくるのは、素朴な佇まいのPopcorn & Salted Caramel Sundae。たっぷり入ったキャラメル、濃厚なアイスクリーム、ほんのり塩気を含んだクラムのようなポップコーンの3種が渾然一体となった、甘党にはたまらないデザート。ポップコーンのカリカリした食感が良いアクセントになっているのもポイント。独り占めしたくなるので、シェアするのは避けた方が良いかも。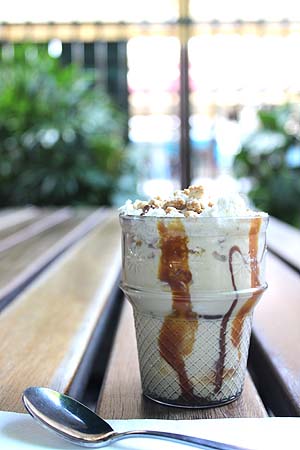 Popcorn & Salted Caramel Sundae $9
天気の良い日にフラリと訪れたくなる店。年末年始の休みは一切なしで、ロケーションを生かしたクリスマスランチや、大晦日の花火を見ながら食事やドリンク、DJが楽しめるイベントが企画されている。また、夏季限定でヤラ川に浮かぶArbory Afloatもオープンしているので、こちらも是非訪れたい。ごちそうさまでした。
Enjoying a Natter in the Dappled Light Below the Trees
It's the time of year when summer really hits, so we hope you're travelling well. The CBD is usually packed around this period, with shoppers looking for Boxing Day sale bargains and revellers enjoying the various new year parties. Arbory Bar & Eatery, this month's venue, has a perfect location for people watching overlooking the Yarra River. You can even see it from certain parts of Flinders Street Station, so no doubt some people will have looked up from there and wondered what it is. This month, we followed chef Nick's recommendations to see what Arbory had to offer.
Sitting in the dappled light filtering through the trees, looking at the glinting Yarra River with a cold drink in our hand and enjoying the calm of the post-lunchtime rush, we were lost in the luxuriousness of the setting. This calm was only interrupted by the arrival of our Fried Soft Shell Crab, Vegetable Salad, Tahini Dressing and Furikake. Often you can get sick of salad-style dishes halfway through eating them, but here, the various veges each brought their own tastes and textures, with some raw, and some lightly pickled. Overall it was a refreshing dish, with the crispy, pale brown soft shell crab providing a rich accent.
We then tried the popular Double Cheeseburger, Bacon, Pickles, Tomato Relish and Crinkle Cut Chips. It's a filling meal balancing faintly sweet buns with a large quantity of lightly salted fillings. The patty came cooked properly (medium), with the centre still pink, and combined with the chips, it's a dish that both goes well with beer or a soft drink, and matches the Arbory's location perfectly.
Next we tried the cute and colourful Seared Swordfish, Zucchini, Golden Raisins, Fried Potato and Green Goddess Dressing. The thick swordfish steak certainly had a lot of presence, and combined a wonderful seared surface with fluffy, juicy flesh. As for the Green Goddess Dressing, it wasn't oily, so never felt cloying, but maintained a light creaminess, and worked well with the sweet and sour tastes of the lightly dried tomatoes. The dish's effective use of accents, such as the refreshing herbs and sweet golden raisins, also stood out. It's a meal that we'd love to pair with a light wine.
Bringing matters to a close, we had the aesthetically simple Popcorn and Salted Caramel Sundae. The plentiful caramel, rich ice cream and slightly salty popcorn formed a perfect harmony, making this a dessert lover's dream. The crunchy popcorn also formed a lovely textural accent. It's the kind of dessert you want to keep to yourself, so maybe ordering one to share isn't the greatest idea.
Arbory is the kind of restaurant you want to visit anytime the weather's nice. With no days off over Christmas and new year, you can go there for special events like Christmas lunch, enjoy dinner and drinks while watching the new year fireworks, or dance the night away with a DJ. Over summer, they even have their 'Arbory Afloat' platform on the Yarra River itself, which we'd love to visit ourselves. Gotchisousamadeshita.
Arbory Bar & Eatery
Flinders Walk, Melbourne
03 8648 7644
7days: 7:30am - Late
W: arbory.com.au