ざわざわ人の賑わいも心地良い - The Moat(2017年6月号)
メルボルンのアイコン的建物は数あれど、市内中心地にあり、ドッシリとした歴史ある外観でひときわ存在感を放つ建物がState Library of Victoria。1854年に設立され、美しくゆったりとした内装で、ある旅行サイトでは「一度は訪れてみたい図書館」に選ばれている。そんな歴史的建物の地下に、隠れ家的な店The Moatがあるのをご存じだろうか。立地条件が良く、朝から夜まで1日中使えるこの店で、どんな料理が楽しめるのか、期待に胸を膨らませ足を運んだ。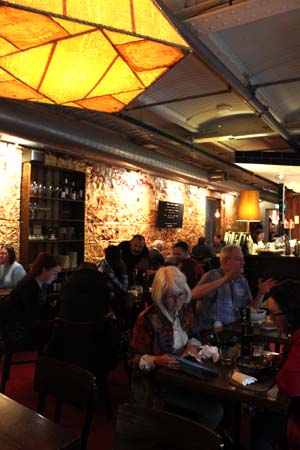 食欲をそそる香りと共に登場したのは、Cuban spiced chicken ribs with grilled lime。皮はパリッ、肉はムッチリしていて丁度良い火の入り具合。ハーブの香りと風味がしっかり染み込んでいて、どんなお酒とも相性が良さそうだ。こぶりなので、大きな口を開けなくていいのが、女性にはうれしいかも。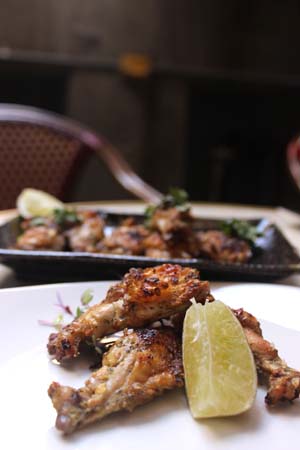 Cuban spiced chicken ribs with grilled lime $14
続いては、鮮やかな色合いが印象的なBlowtorched salmon with beetroot, orange & fennel salad & mustard mascarpone。片側の表面だけ軽く炙ったサーモンは、香ばしいのにトロリとした食感がクセになりそう。一緒に添えられたサラダは、ビートルート特有の土のような匂いを、フェンネルの甘い香りとオレンジの爽やかな香りがさりげなく打ち消していて食べやすい。サーモンとサラダどちらも単独でおいしいのだが、微かに甘味のあるマスタードマスカルポーネを付けて一緒に食べる。すると、3つの味が渾然一体となってなんとも複雑な味わいに。ワインに合うので、お試しを。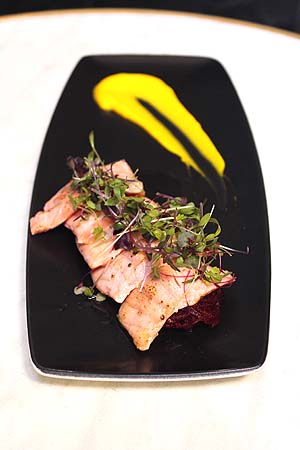 Blowtorched salmon with beetroot, orange & fennel salad & mustard mascarpone $18
店の人気メニューで、シェフ自身もお気に入りのPulled BBQ beef brisket with roast corn salsa, chilli sour cream & tortillas。更に、Grilled broccolini with lemon & prpitasを追加。トルティーヤに、柔らかく甘辛味のビーフ、ピリ辛なコーンのサルサ、歯ごたえのあるブロッコリーニ、サワークリームをたっぷりのせていただく。甘くて、ちょっぴり辛くて、コリッとしていてプチッとしている。味も食感も賑やかで、誰もがニッコリ笑顔になるおいしさ。おしゃべりを楽しみながら食べるのにピッタリのひと皿。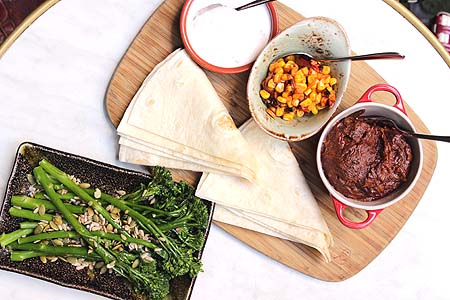 Pulled BBQ beef brisket with roast corn salsa, chilli sour cream & tortillas $30 & Grilled broccolini with lemon & prpitas $9
デザートは、凛とした佇まいのChocolate mousse with pineapple salsa & coconut gel。チョコレートのムースだけ食べると、かなり濃厚でビックリ。しかし、クリーミーでほんのり甘味のあるココナッツクリームやジェル、酸味のあるパイナップルと一緒に食べるとスッキリとした味わいに。デザートは外せないという人に是非。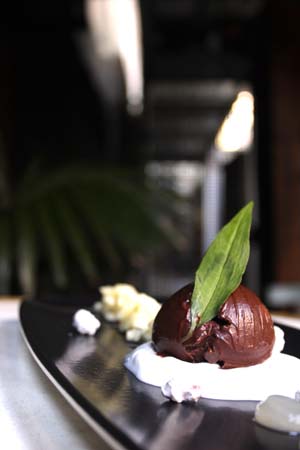 Chocolate mousse with pineapple salsa & coconut gel $14
聞けば歴史的建造物内にあるため、ガス管が通せなかったり、コンロが使えなかったりと制約が多いとか。「手間暇掛けてしっかり下準備をして、知識を総動員して試行錯誤しながら納得のいく料理を出しているよ。大変だけど、やりがいがあるね」とシェフのDaveさん。温かみのある店内は、ついつい長居してしまう居心地の良さ。朝はコーヒー、昼はランチ、夜はお酒片手においしい料理と、いつでも楽しめるのが魅力的。ごちそうさまでした。
The comforting bustle
Among Melbourne's many architectural icons, one that stands out for its sheer presence and history is the State Library of Victoria. Built in 1854, it has a beautiful, yet relaxed interior, and is listed by one tourism site as among the libraries of the world "you have to visit at least once ". However, did you know that below this historic building, there's a hidden gem called The Moat? With its great location and the fact it's open from morning to night, I decided to pay it a visit, excited to find out what sort of food you can enjoy there.
First up came a dish that got the mouth watering just from the smell - Cuban spiced chicken ribs with grilled lime. The crispy skin and tender flesh showed it had been cooked to perfection, and the meat had absorbed the aroma and flavours of the herbs nicely. It's a dish that will go well with any drink. Women may enjoy the fact each piece is on the small-ish side, which makes it easy to eat.
Next up, the Blowtorched salmon with beetroot, orange and fennel salad and mustard mascarpone made an instant impression with its vivid colours. The salmon, which is only lightly grilled on one side, was aromatic and had a smooth, thick texture that kept you coming back for more. The accompanying salad deftly used the sweet fennel and fresh orange fragrances to help eliminate the usual earthy beetroot smell, making it easy to eat. Both the salmon and salad were great by themselves, but eating all three together with the faintly sweet mustard mascarpone creates a perfect, complex harmony. It's a dish that would definitely go well with wine.
Following on, we tried one of the most popular dishes (and one the chef himself loves), the Pulled BBQ beef brisket with roast corn salsa, chilli sour cream and tortillas. We also added the Grilled broccolini with lemon and pepitas for good measure. Loading up a tortilla with the soft, sweet and spicy beef, mildly-spiced salsa, nicely textured broccolini and sour cream, we dug in. The resultant bustling mix of sweet, slightly spicy, crunchy and crispy flavours and textures was enough to put a smile on anyone's face. It's a perfect meal to have while enjoying a conversation.
Dessert consisted of the elegantly-presented Chocolate mousse with pineapple salsa and coconut gel. The mouse itself is incredibly rich and thick. However, when you eat it with the creamy, gentle sweetness of the coconut gel, and refreshing acidity of the pineapple salsa, it becomes light and goes down easily. Highly recommended for those who can't finish without dessert.
Talking to chef Dave, opening a restaurant in such a historic location came with many limitations, such as being unable to run gas lines into the kitchen, and thus not being able to use gas hobs. "It takes a lot of effort to prepare things properly, and we really need to utilise all our knowledge and go through a lot of trial and error to come up with dishes we're happy with. It's tough, but it's worth it," he says. With its warm atmosphere, The Moat is the kind of restaurant you want to linger in. And being open all day, you can grab a coffee in the morning, enjoy a bite there for lunch, and relax with delicious food and a drink in your hand come evening. Gotchisousamadeshita.
The Moat
Basement 176 Littele Lonsdale St. Melbourne
03 9094 7820
Mon - Fri 9am - late
themoat.com.au