滋味深い味わいに、うふふな気分 - Wa Kenbo (2019年02月号)
ここ数年、知っている日本食レストランが立て続けに閉店してしまい、寂しい思いをしていた。しかし、この数ヶ月間で「期待ができそう」と心ときめく日本料理店が次々とオープンし、ご機嫌な今日この頃。今回紹介するWa Kenboも、そのひとつ。こじんまりとした店で、隠れ家的。オーナシェフの伊藤さんは、アデレードで数々の賞を受賞した実力者とくれば、期待に胸が躍らない訳がない。伊藤さんにすべてを任せ、お勧めの料理をいただいた。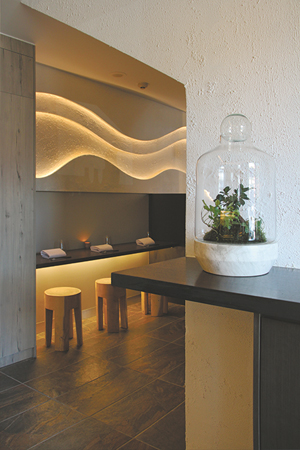 「最初はこの料理で」と出てきたのは3種の小鉢が楽しめるVegetable Kobachi Trio。まずは白和えをいただく。梨の甘みやロケットのピリッとした風味など、食材の持ち味を濃厚な和え衣でうまくまとめていてビックリ。続いて大根巻き。シソの風味が口いっぱいに広がり爽やか。しっかりした食感で、食欲が増す。最後は、そら豆を使った揚げ出し豆腐。ごま豆腐のようなモッチリとした食感のそら豆豆腐と生姜の風味の出汁の相性が抜群で、小鉢でなく大鉢でいただきたいと思ってしまった。洋の食材も使われているのに、純和食の印象が残る技ありなスターターだ。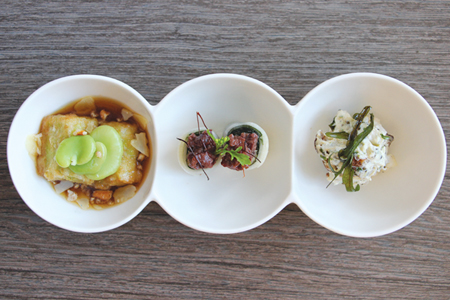 Vegetable Kobachi Trio $14
今の時期が旬のPanfried squid, blue swimmer crab & zucchini Inaniwa–udon with spicy Miso sauce, soy grilled sweet cornが登場。先程の料理とは趣が違い、蟹の身や麺状にしたズッキーニに、韓国のコチュ醤を使ったソースが絡まるピリ辛の一品。香ばしいイカやコーンに郷愁を覚える人もいるのでは。食感の違いも良いアクセントになっていて、ビールと相性が良さそうだ。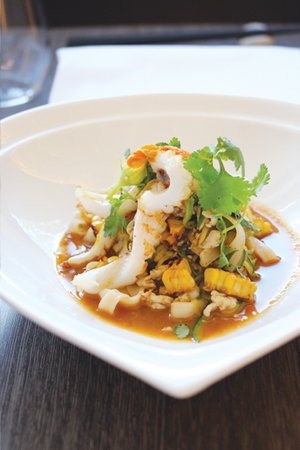 Panfried squid, blue swimmer crab & zucchini Inaniwa udon with spicy Miso sauce, soy-grilled sweet corn $28
「この料理はちょっと変化球」と運ばれてきたのは、Slow cooked Kuro–buta pork belly, seared scallop, mustard pickled Hakusai, Edamame, Shitake & barley risotto。伊藤さんは日本のプロ野球が大好きで、料理の説明が野球用語になることも。8~9時間掛けて作られるトロトロの豚の角煮に、サッと火を通した帆立、辛子漬けの白菜、バターの風味がきいたリゾットを合わせた和洋折衷のひと皿。「直球で角煮に練り辛子もおいしいけど、バターの風味とも意外と合うんですよ」との言葉通り違和感がなく、こんな組み合せもあるのかと唸ってしまった。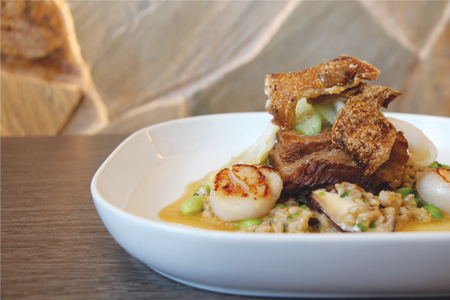 Slow cooked Kurobuta pork belly, seared scallop, mustard pickled Hakusai, Edamame, Shitake & barley risotto $43
抹茶を使ったデザートGreen tea & chocolate soft centred warm pudding, banana ice cream, crystallised rose nibs。ホワイトチョコと抹茶のフォンダンショコラは、抹茶のほろ苦さがきいていて甘さ控えめな大人の味。熱々のフォンダンショコラとバナナのアイスクリームを一緒に食べれば、至福のとき間違いなし。バレンタインデーのディナーの最後を飾るのにピッタリ。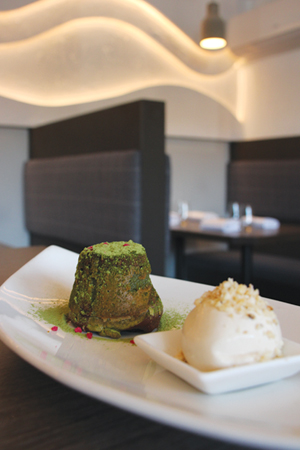 Green tea & chocolate soft-centred warm pudding, banana ice cream, crystallised rose nibs $18
日本食の基本を押さえた上での冒険心溢れる創作料理が味わえ、居心地の良い空間とサービスで第二の我が家と呼びたくなる店。次回は、気になる窯炊きごはんを試してみようかな。ごちそうさまでした。
Combining deep, rich flavours with a light-hearted atmosphere
In recent years, several of our favourite Japanese restaurants have closed down (much to our regret). However, the last few months have seen a succession of new Japanese eateries open in their place, which has filled our hearts with both expectation and joy. WaKenbo, the establishment we're looking at this month, is one of those. This snug little hidey-hole is run by owner-chef Ito-san, and the fact he's won many awards back in Adelaide, where he used to work, means our expectations were all the higher. It's why we also left the dish selection up to him.
"First up, we have this," said Ito-san, as he presented the Vegetable kobachi trio (kobachi meaning small bowl in Japanese). Starting with the Shiro-ae salad, we were shocked at how well Ito-san mixed the flavours of the ingredients, such as pear and rocket, to create this richly flavoured dish. Next, we tried the Daikon maki, which filled your mouth with light, refreshing shiso flavours. The firm textures help ensure that this is a dish that stirs the appetite. Finally, we had the agedashi tofu, made using broad beans rather than traditional soy. The combination of the tofu's thick and springy texture, (akin to sesame tofu), and the ginger-flavoured dashi soup was superb, and we ended up wanting a large bowl of it, rather than just a small one. The fact these starters use Western ingredients like broad beans, but still manage to produce a purely Japanese taste and texture combination, is testament to Ito-san's skill.
We followed our starter with the very summery Panfried squid, blue swimmer crab and zucchini Inaniwa udon, with spicy miso sauce and soy grilled sweet corn. Different in style from the previous dish, the crab and noodle-like sliced zucchini is coated in a slightly spicy sauce made with Korean gochujang. No doubt the aromatic squid and corn will invoke nostalgic memories for some. The difference in textures makes for a nice accent, and it's the kind of dish that would work well with beer.
"This one's a bit of a curve ball," said Ito-san, bringing us our next course – the Slow-cooked Kurobuta pork belly, with seared scallop, mustard pickled hakusai, edamame, shitake and barley risotto. Ito-san is a fan of Japanese pro baseball, so it's no surprise he would use such a term to describe this dish. And with its incredibly tender pork belly, simmered for 8-9 hours, seared scallops, hakusai and buttery risotto, it truly mixes East and West in a unique manner. "Regular, straight ball-style simmered pork belly with mustard is nice, but it works surprisingly well with buttery flavours, too," he stated, and true to his word, nothing feels out of place in this dish, making it a bit of a revelation.
Our dessert came in the form of the Green tea and chocolate soft-centred warm pudding, with banana ice cream and crystallised rose nibs. With the pudding's mild sweetness and hint of bitterness from the matcha, it's an adult's dessert. And by combining the piping hot pudding with the banana ice cream, you're guaranteed a truly heavenly experience. We'd highly recommend it as the finisher to a romantic Valentine's Day dinner.
By building adventurous dishes on a base of solid, Japanese culinary techniques, and with its great service and friendly atmosphere, WaKenbo is the kind of place we'd want to make our second home. Next time, we might try the Salmon Kamadaki rice. Gotchisousamadeshita.
Wa kenbo
69 Victoria St, Fitzroy
T: 03 9041 9495
Tue-Sat: 5:30-10pm
W: wakenbo.com.au