夏の夜は、肉料理で乾杯!- Cheek (2019年1月号)
突然だが皆さん、スタイリッシュでありながらカジュアルな雰囲気とおいしい肉料理で、開店から瞬く間に人気になったPrestonのDexterという店を知っているだろうか?このページで取り上げようと思っていたところ、シティ中心に姉妹店Cheekが開店したと聞き、早速足を運んだ。店はQVの向かいの建物にあり、2階はレストラン、3階と屋上はバーになっている。「食事の後、上に上がればお酒もゆっくり楽しめるよ。今の季節なら屋上も開放的でお勧めだね」と、オーナーのひとりであるサムさん。今回はサムさんお勧めの料理をいただいた。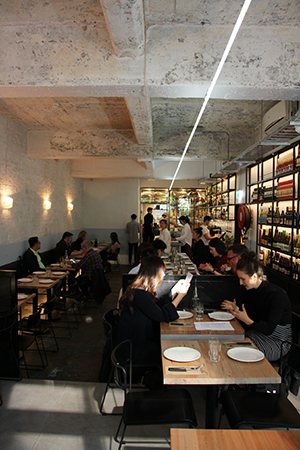 「料理はどれも、何かしらアジアンな捻りを加えているんだ」と運ばれて来たのは、Charred edamameとSweet n' sour cauli。枝豆は塩茹でしか食べたことがなかったが、ここのはアルゼンチン発祥のソース、チミチュリをアレンジしたバターと麹を組み合わせている。香ばしく濃厚な味は、塩茹での枝豆では物足りないと言う人にお勧め。
ポップコーンチキンのような見た目のSweet n' sour cauliは、中華系のピリ辛味。サクッとした衣に丁度良い歯ごたえのカリフラワーが絶妙にマッチしていて、病み付きになりそう。ビールとの相性も良さそうだ。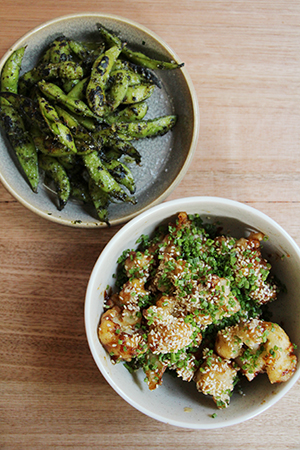 Charred edamame $9 and Sweet n' sour cauli $9
続いては、Plum tatare。一見フランス料理のタルタルだが、食べてみるとほんのり洋梨の甘みを感じる優しい味わいに、ごま油がきていて韓国料理のユッケのよう。松の実や揚げワンタン、レタスとの食感の違いも楽しい。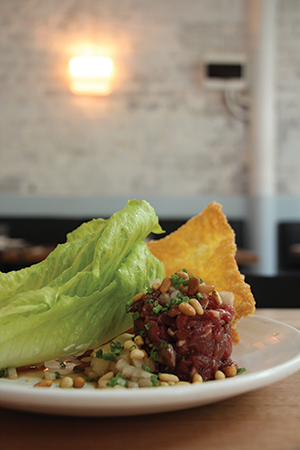 Plum tatare $18
旨味を引き出すために4日間熟成させた豚肉を使用したPork 'Cheek'は、角煮のようにトロトロでナイフがいらないほど。コッテリとしているが、付け合わせのPickled appleと一緒に食べると、さっぱりとした味わいになるから不思議。ボリュームがあるのに、メニューにSmallとあってビックリ。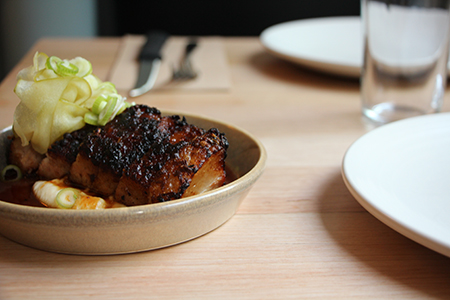 Pork 'Cheek' $19
「店の看板メニューのひとつだよ」と登場したのは、Smoked short rib。650gの肉の存在感に圧倒されながらナイフを入れる。こちらも先程のPork同様、とても柔らかくフォークだけで十分。どこか馴染みのある甘辛系の味にマヨネーズがよく合う。時々ピリッと辛いのも良いアクセントになっていて、つい手が伸びてしまうかも。付け合わせには、この料理にピッタリのBaby gem lettuceと、コーンにXO醤という意外な組み合せなのにメキシカンな雰囲気のDirty cream corn がお勧め。ビールやワインはもちろん、オリジナルのカクテルと合わせても。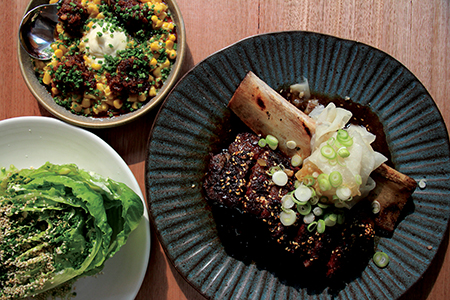 Baby gem lettuce $8 and Dirty cream corn $12, Smoked short rib $65
アクセスの良い場所にあり、食後に階上でお酒も楽しめると、とにかく便利。肉好きなら絶対唸ってしまうこと間違いなし。「本当はDuckもお勧めなんだけど」とサムさん。それは次回のお楽しみに取っておこう。ちなみに、年末年始の休みは、12月24日から26日、12月31日から1月8日だそう。ごちそうさまでした。
Meat, alcohol and warm summer nights – a perfect combination!
If you're into your food, you'll probably have heard of Dexter, the stylish, yet casual American BBQ-style eatery in Preston that exploded in popularity straight after opening. We were originally planning to feature it here ourselves, but upon hearing its sister venue, Cheek, had opened in the CBD, we decided we'd check that out instead. Located in a building opposite QV, the second floor is the restaurant, while the third floor and rooftop are both bars. "After your meal, you can go upstairs and enjoy some nice, relaxed drinks, and at this time of year, the rooftop bar is ideal," says one of the co-owners, Sam. Following his recommendations, we tucked in.
"No matter what we do, we try and add an Asian twist," we were told, after being served our Charred edamame and Sweet n' sour cauli starters. We'd only ever eaten salted edamame until now, but here it's served with Argentinean-style koji Chimichurri butter. Fragrant and deeply-flavoured, it's perfect for those who might feel regular edamame are a little plain. The Sweet n' sour cauli, meanwhile, may have looked like popcorn chicken, but it actually had a Chinese spicy kick, and with its fantastic crispy coating that matched the cauliflower to a tee, we could see ourselves getting addicted to it. No doubt it would go very well with a cold one, too.
Next up, we tried the Plum tartare. At first glance, this looks like a traditional French steak tartare, but eating it reveals a gentle sweetness from the pears, and the sesame oil means it comes across more like a Korean yukhoe than anything else. Served with pine nuts, fried wanton skins and cos lettuce, the differences in texture are really fun too.
Our next dish was the Pork 'Cheek' which is slow-cooked over four days to bring out all the flavour, and it fell apart when touched. You'd never need a knife, put it that way. Eaten by itself, it's a rich, deeply-flavoured dish, but paired with the accompanying pickled apple, it magically becomes a light, refreshing one. Amazing. Despite being listed on the menu under 'Small' dishes, we should warn you it's a pretty hefty serving, though.
We followed up the 'Cheek' with one of the restaurant's signature dishes, the Smoked short rib. At 650g, we were bowled over by the size, but we dug in regardless. Like the 'Cheek', the meat is so tender it doesn't need a knife, and the combination of faintly familiar sweet and spicy flavours with the mayonnaise worked well. The fact you got little extra spice kicks here and there also served as a nice little accent, and meant you just kept reaching for more. We'd recommend eating this with the Dirty cream corn, too, which pairs baby gem lettuce, corn and XO sauce to create a unique take on Mexican cuisine. Beer, wine, or even one of the house's original cocktails – everything goes with this combo.
Cheek's location means it's very easy to get to, and the fact you can enjoy drinks upstairs afterwards make it a great one-stop-shop. For meat lovers especially, this is paradise, and we regretted not being able to fit in the '5 day half duck' as well, but that'll be for next time. In case you're wondering, Cheek closes from December 24 to 26, and from December 31 to January 8. Gotchisousamadeshita.
Cheek
1/301 Swanston St, Melbourne
T: 03 9994 8582
Tue-Sat: 5pm-late
W: cheek.melbourne