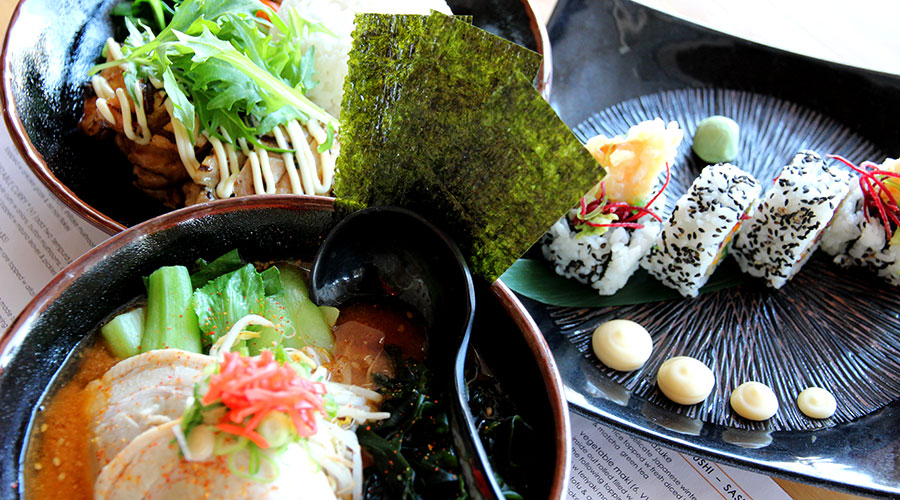 Chocolate Buddha
Want to enjoy delicious Japanese food with your friends while enjoying some of the best views of Melbourne available? Chocolate Buddha is your next destination.
Located in the heart of Melbourne – Federation Square – this large format eatery is easy to access
from other Melbourne tourist attractions like the NGV and MCG, and offers tremendous views out over the city and iconic square itself. It makes the most of those views, too, with an expansive wrap-around terrace where you can relax and watch the various free shows and events held at the square.
With all tables set up for communal dining, the adult menu consists mainly of smaller sharing dishes,
but there's ramen, donburi, zensai and sushi, plus a few other Asian-inspired dishes, available as well. The wine list is all Australian, with each variety available by the glass.
There's sake and beer, too. Unusually for a Japanese restaurant, there's a great kids menu.
Delving into the restaurant's history, it opened in 2003 and is the culmination of two generations and four decades of hospitality industry experience by the owners. It's been run by the same family since, and everyone involved is proud of not just Chocolate Buddha's achievements as a restaurant, but also simply being a part of Melbourne and particularly the cultural icon that is Fed Square.
Looking deeper at the menu, developed by the owner and team of chefs, it's clear their passion is for modern Japanese that's not afraid to mix things up, but still stays true to its roots. The popular Spicy
Pork Ramen, for example, combines traditional slowcooked pork, bok choy, wakame, menma, picked ginger, shichimi, spring onions, nori and noodles with a fusion chicken broth made with kochujan, butter and miso paste. The char-grilled Teriyaki Chicken Don also updates things with its balsamic teriyaki glaze and mayo.
It's unique cuisine, but anyone can enjoy it (and gluten-free options help ensure that). The location is
just icing on the cake.
Recommended Dish : Tempura Pumpkin Roll - $15
Address

Federation Square, Melbourne

Tel
Business hours
Breakfast, Lunch, Dinner

LUNCH

DINNER

Others


Website