Japanese Restaurant Table Manners : the basics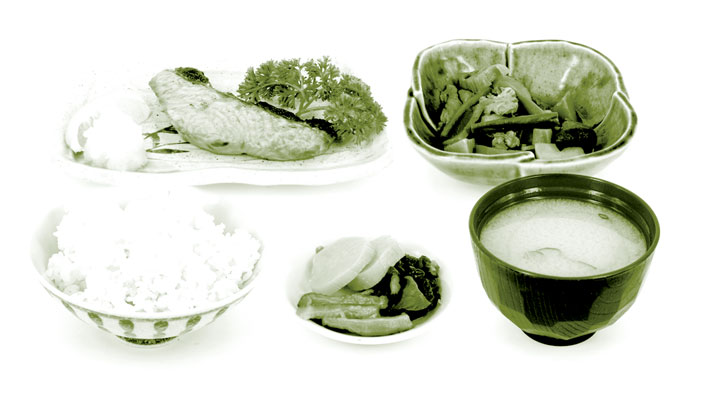 The traditional Japanese meal structure – one main, three accompaniments
Traditionally, Japanese meals always consisted of one main ingredient (rice), soup, then a mix of three side dishes. One of these side dishes would be bigger than the others.
The rice was for carbohydrates, the soup for fluids, while the rest of the dishes provided other nutrients. By ingesting this mix, it was said this style of cooking aided digestion and nutrient absorption. It was also said to aid expulsion of excess sugar, salt and fat from your system.
It was also said this method, because it divided food neatly into set, individual amounts, prevented over-eating.
DON'T MAKE A SOUND (apart from noodles)
When it's time to rest your crockery back on the table or tray, tense the tips of the fingers underneath it. This will make them act as a cushion under it and reduce the noise. When eating pickles and the like, chew using the back teeth, as placing such crunchy items at the back of your mouth will reduce their sound.
HOW TO EAT SUSHI
With nigiri sushi (a topping on top of a rice ball), if you dip the rice in soy sauce, it will fall apart, so just dip the topping very lightly in the soy sauce. If you are eating ikura (salmon egg) sushi, just dip the nori part in soy sauce. There is also a method of applying soy sauce via gari (pickled ginger): You dip the gari in the sauce, then 'paint' the sauce onto the sushi topping. For chirashi sushi (a rice bowl covered with raw fish) and the like, leave the bowl on the table or tray, steadying it with your hand. Eat from the outside in. If you need to use it, pour soy sauce into a small side dish and dip the ingredients in that.
HOLDING BOWLS OR PLATES
When eating from rice bowls or other small bowls, rest your thumb lightly on the rim of the bowl, then place the other four fingers underneath to support it.
HOW TO EAT TEMPURA
While there's no particular order required, if you start eating from the lighter coloured (and thus more subtly flavoured) items and finish with the darker, heavier tasting ones, you'll be able to enjoy the various flavours better. If there is any lemon provided, do not squeeze this directly onto the tempura as it will ruin the taste. Mix it with the provided tempura sauce instead. It will add a little zing. However, any salt provided should be sprinkled on top directly. Do not mix with the sauce if you do this. It will also ruin the salt taste. As tempura is oily, it is a good idea to drink sake or beer with it, as alcohol breaks down oils. Those who prefer non-alcoholic drinks should drink a coarse grade tea.